NATIONAL CENTRE FOR POLAR AND OCEAN RESEARCH NURSE & OTHER POST OPEN FOR 2021-23 SESSION IN VASCO-DA-GAMA, GOA ON CONTRACT BASIS RECRUITMENT. APPLY ONLINE.
Fast Information:
| | |
| --- | --- |
| Advertised Number | NCPOR/11/21 |
| Last Date: | 15/07/2021 |
| Post Name | Staff Nurse |
| Total Seats | 03 |
| Eligibility | B.SC/GNM Nursing |
| State | Vasco-da-Gama, Goa |
| Age Criteria | N/A |
| Exam fees | Rs.0/- |
| Official Website | Click here |
| Application Form | Click here |
National Centre for Polar and Ocean Research Goa Staff Nurse Vacancy 2021 . NCPOR is looking for trained manpower on a contract basis for its Research bases in Antarctica for the season 2021-2023 as per details given below: Apply for a total of 03 Male Nurse Posts. Interested candidates must apply online before 15/07/2021. Eligible candidates can participate in the online registration process from 15 June 2021 to 15 July 2021.
Important Dates to Remember:
Posted On:

June 15, 2021

Online application start on: June15, 2021
Last date for submission online form:

July 15, 2021

Apply online form:

15-06-2021 to 15-07-2021 (16:59 hrs).
Monthly Salary:
| | | |
| --- | --- | --- |
| S.No. | Contract | Payment |
| 1. | the first time Contract | 45,103/- (fixed) |
| 2. | The entire duration of the contract | 60,138/- (fixed) |
Extra Allowances:
Hardship Allowance (HDA) of 1500/- per day during the summer season.
Hardship allowance (HDA) of 2000/- per day during the winter season.
Special kit allowance of Rs. 20000/-
Group Personal Accident Insurance Coverage up to 25 lakhs for the selected candidates will be provided by NCPOR for the expedition period.
Location of Position:
Headland Sada, Vasco-da-Gama, Goa.
Eligibility:
National Centre for Polar and Ocean Research Goa Staff Nurse Vacancy 2021 Educational Qualification for Staff Nurse Post is given below:
Diploma in General Nursing with three years' experience in relevant field Or Bachelor of Science in Nursing as approved by Indian Nursing Council with two years working experience in relevant field.
Preferable Experience:
Candidates with experience in operation theatre/ ICU will be given preference.
Handling medical emergencies and trauma/ disaster nursing/orthopaedic and rehabilitation nursing/handling operation theatre equipment.
Age Criteria:
Total Seats: 
National Centre for Polar and Ocean Research Goa Staff Nurse Vacancy 2021 total 03 seats vacant.
Exam Fees Details:
| | | |
| --- | --- | --- |
| S.No. | Category | Application fees |
| 1. | Unreserved Candidate | Rs.0/- |
| 2. | SC/ST/ | Rs.0/- |
| 3. | ESW/OBC | Rs.0/- |
Probation Period:
Selection Method :
National Centre For Polar And Ocean criteria for selection.
The online written tests will be conducted for this vacancy.
On final selection, the candidates will be required to sign a contract with NCPOR.
The list of screened-in candidates shall be displayed on NCPOR website ncpor.res.in.
Screened-in candidates shall be invited for an interview/personal talk. Place and date shall be intimated over registered email-id.
The pre-interview written test shall be conducted depending on the number of shortlisted candidates, the interview may spill for the next day.
How to Apply & Instructions :
Click on the Registration link in the Deownlod section and submit your information online with this given format.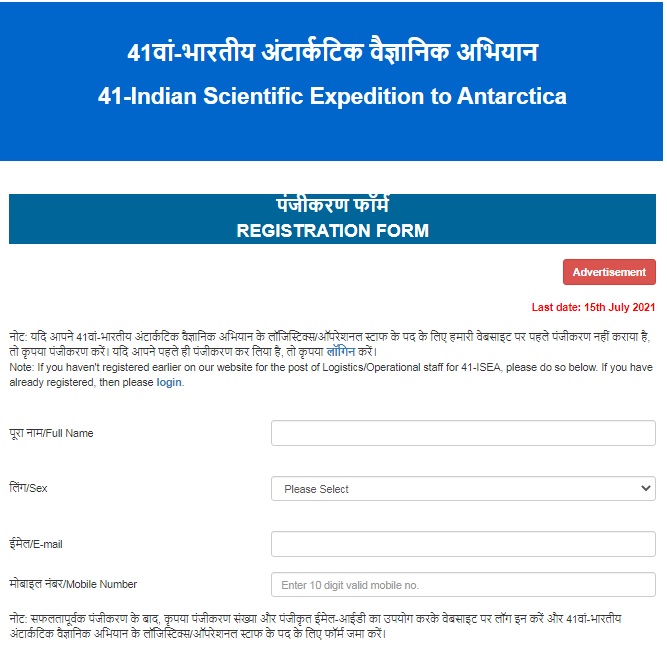 You have to fill and submit the online application form available at the website: www.ncpor.res.in
Interested candidates need to register themselves by 15 July 2021 by filling online application form AL-2007 available at NCPOR website www.ncpor.res.in along with copy of document proof for date of birth, PAN card, aadhar card, Marital status, educational qualification and relevant experience.
Experience in the respective trade shall be considered after completion of educational/technical qualification i.e., degree/diploma/certificate course
Those registering Online need to send their supporting documents in PDF form quoting their registration/acknowledgment number on the following email address: logistics@ncpor.res.in.
In case of any difficulty, an individual can send the application form AL-2007 in physical form along with all the documents to the following address, however, NCPOR will not be responsible for loss of application in transit or postal delays.
Fill in the details and attach the required document & Take a printout Send to the address given below.


To,

The Group Director (Antarctic Operations & Infrastructure),

National Centre for Polar and Ocean Research,

Headland Sada,

Vasco da Gama,

Goa 403804
General Terms & Conditions:
Please read the instructions carefully before filling the application form. You can download the instruction manual from the download section.
The period of contract shall be of 4 months or 14 months depending on the suitability of candidates as assessed by NCPOR and shall start from November/December 2021. Based on the requirement, the contract can also be extended by few months.
Short-listed candidates will have to undergo Medical Examination at All India Institute of Medical Sciences, New Delhi/ Goa Medical College, Goa, and Pre-Antarctic Snow Ice Acclimatization training at ITBP, Auli (near Joshimath, Garhwal, Himalayas) for about 15 days subject to COVID-19 protocol. The dates will be informed by NCPOR later.
Candidates attending the interview will be paid sleeper class return fare by train/bus and accommodation for a maximum of 4 days at a rate not exceeding Rs. 500/- per day which shall be reimbursed only on production of original railway/bus ticket and hotel bill
Official Website and Helpline contact:
Query related to post / technical detail:
Job Profile:
JOBS OPPORTUNITY FOR POSTS OF STAFF NURSE (MALE ONLY) POST, IN NATIONAL CENTRE FOR POLAR AND OCEAN RESEARCH, GOA ON CONTRACTUAL RECRUITMENT BASIS. REGISTERED YOUR SELF @ www.ncpor.res.in
National Centre For Polar And Ocean Research Staff Nurse Vacancy 2021
Apply online Click on the link below.
The official website for this vacancy,  Click on the link below
Download link for Advertisement &, Final Rule Book pdf.

Click

 on the link below.
Candidates wishing to participate should review the eligibility requirements, including educational qualification, age limit, application fee, selection process, and application deadline. On or before the deadline, eligible candidates can apply for the application form. Candidates should read the instructions given below for more information. Thank you for visit our website www.proudofnurses.com.
About National Centre for Polar and Ocean Research:
National Centre for Polar and Ocean Research  राष्ट्रीय ध्रुवीय एवं समुद्री अनुसंधान केन्द्र formerly located in GOA. NCPOR, an Autonomous Institution under the Ministry of Earth Sciences, Government of India is responsible for coordinating the Indian Antarctic Expeditions. This institute plays an important role in the scientific research activities being undertaken by several national institutions and organizations in Antarctica, the Arctic, and the Indian Ocean sector of the Southern Ocean.
Website Address: https://ncpor.res.in/  Postal Address: National Centre for Polar and Ocean Research, Ministry of Earth Sciences, Government of India, Headland Sada, Vasco-da-Gama, Goa 403 804, India, Tel: +91-832-2520876 /2525511 Fax: +91-832-2520877 e-mail: director@ncpor.res.in ; info@ncpor.res.in After Office Hours:+91-832-2525600 /2525601 for more nurses jobs, please visit: https://proudofnurses.com/